Colours & Patterns
Built For The Working Dog
FINDING A SOLUTION AND...
...Fixing The Problem
We have heard countless times from dog handlers and pet owners that finding quality K9 gear capable of withstanding years of continuous use is a rare commodity! From broken collars, failed harnesses, to snapped leashes and worn out hardware, we've seen it all. Nearly indestructible, the K9 Sentry Collar gives you peace of mind in knowing your dog has one of the safest and strongest collars they could wear backed with a lifetime warranty.
___________________________________________
Load Rated // Metal // Hardware
The K9 Sentry Collar is available in 1.5 or 2.0 inch widths and comes standard with an adjustable AustriAlpin™ COBRA® buckle giving you a user friendly function with the safest quick release system on the planet. A lightweight forged metal D-Ring is sewn in using one continuous strip of MilSpec webbing giving you an unbreakable connection point for leashes and carabiners. For extreme conditions and daily operational use, upgrade your attachment point to the "Forged Metal V-Ring" in the dropdown menu above..
___________________________________________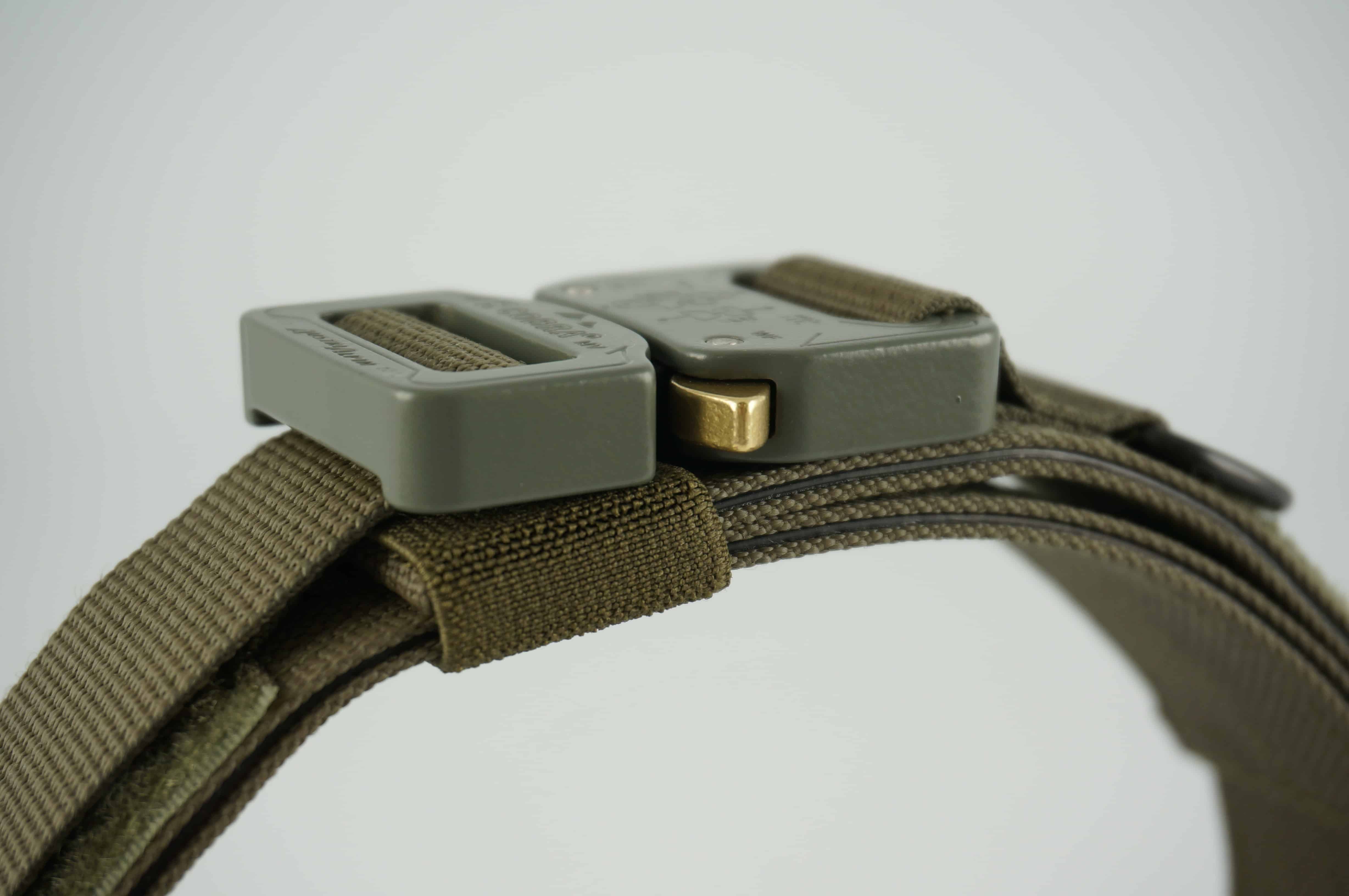 A Safe Space
Eliminating pressure points, pinching and snagged fur, the Sentry Collar utilizes an overlapping system making space between the COBRA® buckle and the neck providing a no contact and comfortable solution for your K9. A slip through access point and a rigid polymer insert sewn between MilSpec webbing provides 360° stability no matter where the collar is adjusted.
___________________________________________
Customize Your K9
The loop platform allows you to attach custom patches on the outside of the collar. Excellent for custom name tags, high visibility options, identification purposes and messaging.
___________________________________________
Keeping It Clean
Not only does the loop platform allow you to attach patches, it also serves to keep the tail end of the webbing that is woven through the male end of the cobra buckle completely secured and out of the way. A protruding laser cut hook tab keeps the edges of the webbing from peeling or rolling over time.
___________________________________________
See the Sentry Collar // A quick video of @lofdefence_argo gearing up for tracking
NO NEED FOR AN APPOINTMENT

Visit Our Showroom
Various sizes and colours are in stock and ready to go in our Edmonton showroom and manufacturing facility. Open Monday to Saturday, swing by with your K9 for a collar fitting and enjoy a Black Rifle Coffee on the house.
___________________________________________
Instagram // @k9anouke
Overview
The sentry collar eliminates pinch points, and potential frostbite issues by utilizing an overlapping barrier behind the Cobra buckle that allows no positive contact with the K9's neck. Loop Velcro surrounds the collar for identification patches, and size adjustment. It also has a large forged metal D-ring for lead attachment. Each K9 Sentry collar has a very wide range of adjustment. PATCHES NOT INCLUDED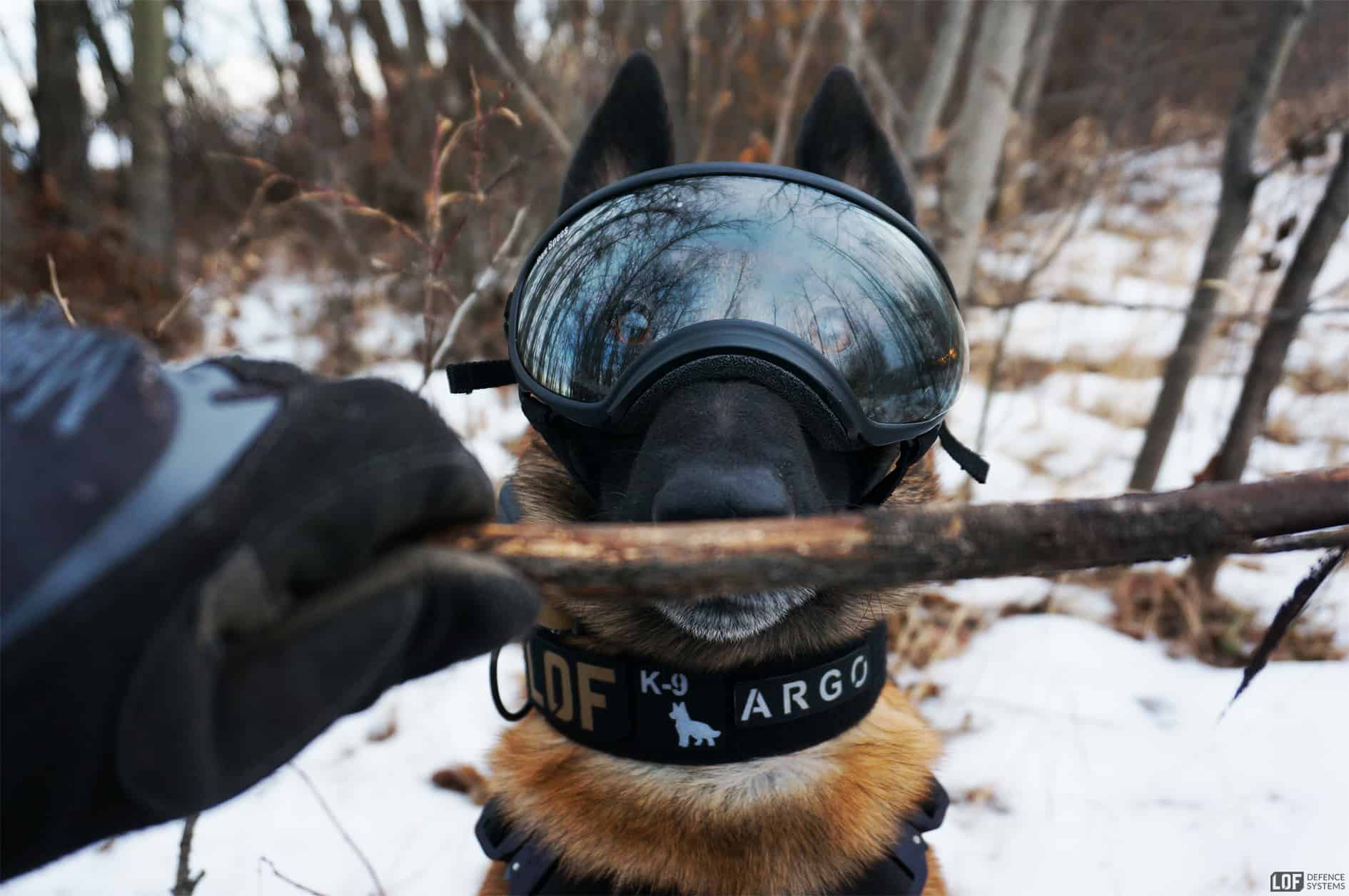 Sizing
Download the sizing information here for information on how to properly size your K9's Collar.
Lead Times
Due to the high demand for our products and strict in house manufacturing we have limited stock available and many of our products are made to order. If your order is in stock it will be picked and shipped right away. If it needs to be manufactured, lead times may apply. Click here to view our standard lead times.
For Law Enforcement, Military, procurement, department orders or volume orders please contact us directly to work with one of our account managers to ensure your needs are met.
Warranty
We guarantee our products will be free from defects in materials and workmanship for the life cycle of the product. We will repair or replace products found defective at our sole discretion. Please retain your warranty card and original proof of purchase to redeem your warranty.
Other Products You Might Be Interested In...