Colours & Patterns
PRotecting k-9's in LE & MILITARY
The LOF K9 StreetFighter Vest is a soft body armour protective vest for your K9 companion. This protective vest is specially designed to be lightweight and mobile while also protecting the K9's vital organs without them becoming exhausted from excessive heat and weight. Aiding alongside the bullet-resistant armour, the StreetFighter vest also contains an inner layer of Outlast Thermal Management Systems™ fabric to prevent excessive heat soaking and to help regulate your K9's body temperature keeping them comfortable and cool.
Outlast Thermal Management Systems™ (Body Temperature Regulating Fabric)

Interchangeable ballistic panels

Harness and armour are positively buoyant




Compatible with a number of LOF products

Quick and easy to don & doff

Precision manufacturing with quality control built into every process of production
This K9 StreetFighter vest is specifically designed for durable, long-lasting, protection that can easily be upgraded or downgraded at any moment. Offering this ergonomic and lightweight protection system to your K9 is a sure way to ensure that they are safe, but not restricted from performing required duties.
Maximum weight: 4.4 lbs

Upgrades options available for NIJ 0115.00 - SX2 or SX3 Spike // Cut Resistant armour and NIJ 0101.06 - GX2 or GX3A Ballistic armour

Specially tailored sizing options available

Available in MultiCam, MultiCam Black, Black, Navy Blue, Ranger Green, Wolf Grey, Coyote Brown and Blaze Orange
For more information, read below.
LIGHT ENOUGH TO TRACK IN...
The Lightest K9 Body Armour Platform Yet!
At the highest Soft Body Armour protection level, the Armoured K9 StreetFighter vest weighs in at a maximum of 4.4 lbs for our largest size and an average of 3.8 lbs based on average working dog weight, depending on armour type. With an incredibly low weight armour solution combined with engineered ergonomics and Outlast Thermal Management Systems, you provide your K9 with life-saving body armour that protects major vital organs, helps prevent heat exhaustion and allows your K9 to retain full agility and work drive.
___________________________________________
Protection...Not What You Would Expect
Multilayered technology simultaneously works together making the StreetFighter the most versatile and wearable K9 protective harness available. MILSPEC mesh provides continuous airflow with rapid water-shedding, embedded Outlast regulates body temperature while our low profile internal access point allows you to add or remove Soft Body Armour panels as needed.
___________________________________________
Covering The Vitals
Designed to cover major vital organs such as heart and lungs, the K9 StreetFighter can be equipped with LOF - GX Ballistic Soft Armour or LOF - SX Spike Resistant Soft Armour. Each armour panel is ultrasonically sealed using a coated Nylon keeping all foreign debris out and giving you a 100% waterproof solution.
___________________________________________
UNMATCHED METAL HARDWARE



COBRA® Tech

OEM with AustriAlpin™ COBRA® buckles for unmatched safety and reliability - giving you the option to deploy your K9 in high angle situations.

___________________

Forged V-Rings

Preventing carabiner cross-loading, 4000lb load rated V-Rings are located at the front and back giving you positive control in any situation.

___________________

Riggin' Your K-9
Upgrade your K9 StreetFighter to give you the safest rappelling rig for your working dog. Load rated for 2000 lbs, our QR K9 Leg Harness is extremely lightweight, flexible and thin enough it can be tucked away inside a jacket pocket or a small pouch.
___________________________________________

User Friendly // Peace of Mind
Many K9 deployments are time crucial. The QR K9 Leg Harness features a simplistic design allowing ease of donning and doffing enabling single-handed operation for releasing and adjusting. A single AustriAlpin™ COBRA® buckle for securement and a forged metal V-Ring gives you a second rigging point to balance out your K9 when lifting or lowering.
___________________________________________
Features you wouldn't expect
Adjustable // Mounting Options
Every K9 StreetFighter Vest incorporates an adjustable load rated drag handle secured with steel hardware and reinforced stitching. Four elastic loops and a sewn web platform allow you to add chem-lights along with electronic strobes or light beacons.
___________________________________________
Ergonomics & Geometry
Our contoured shoulder straps were designed to be slightly curved and anchored at a specific angle. Providing complete and positive contact along the shoulders and neckline, this harness will mould to your K9 and guarantee complete freedom of movement while eliminating pressure points and chafing.
___________________________________________
Customized Mounting Platform
A reinforced laser-cut PALS system allows the attachment of MOLLE compatible Pouches giving your K9 the ability to carry their own additional equipment such as water, medical supplies, extra Leads and rappelling hardware.
___________________________________________
Customize Your K9
Our laser cut PALS platform also integrates two 4"x7" loop sections giving you the ability to attach customized patches for specific messaging and identification purposes. Check out our Tactical Patches page to see some available options.
___________________________________________
Protection For What Matters Most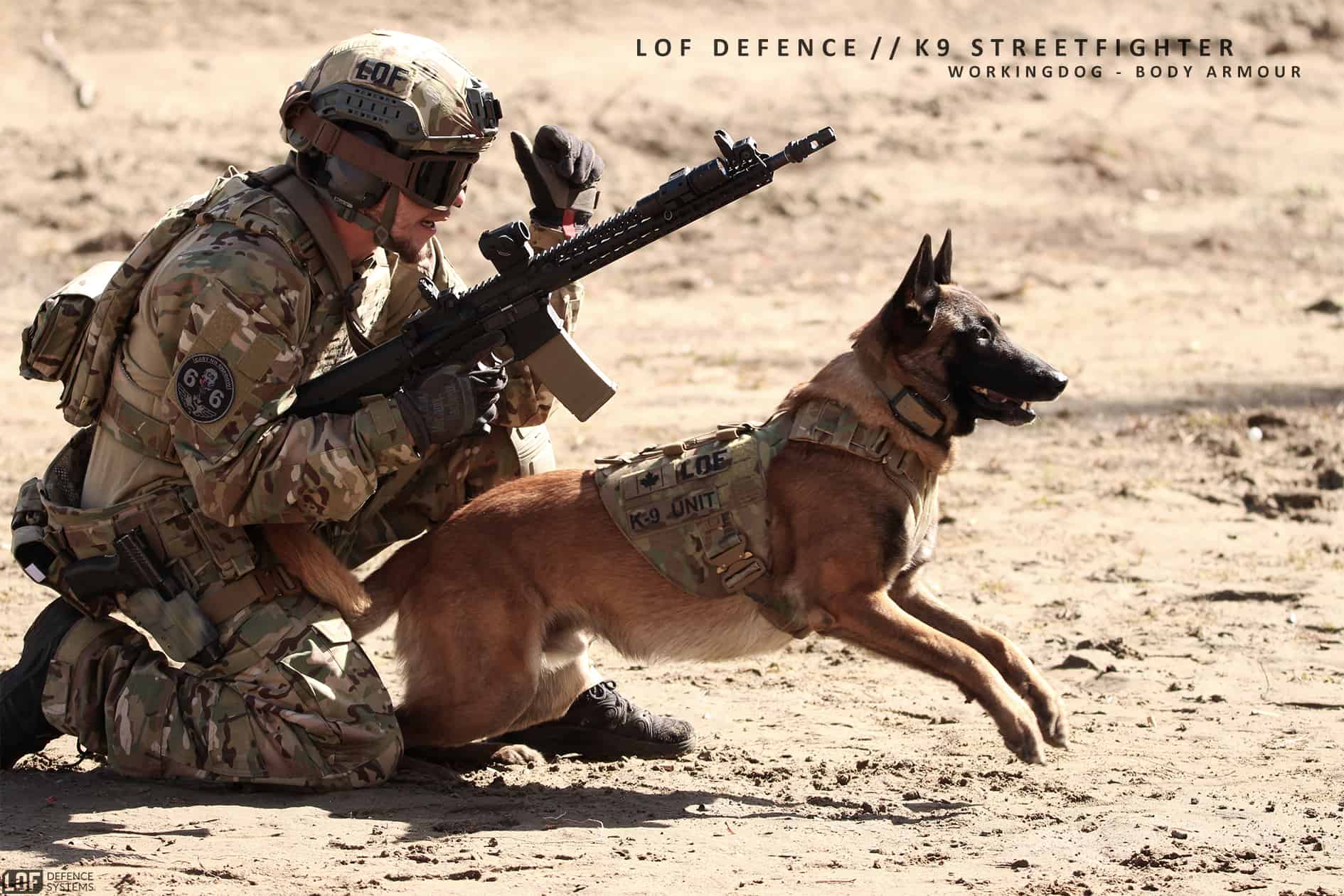 Overview
The K9 StreetFighter was engineered as a lightweight, armoured tracking harness that can be worn for entire shifts without causing mobility stress, fatigue, discomfort or overheating.
We redesigned the concept of K9 armour based-on feedback from police and military units who have lost their K9 team members in situations where time was not available to equip their dogs with the right gear.

The K9 StreetFighter is used by Law Enforcement and Special Forces K9 teams globally. It's lightweight design, rapid deployment and Outlast Thermal Management Technology make the StreetFighter a versatile, comfortable harness working dogs can wear for entire shifts ensuring they are always protected when confronting a threat.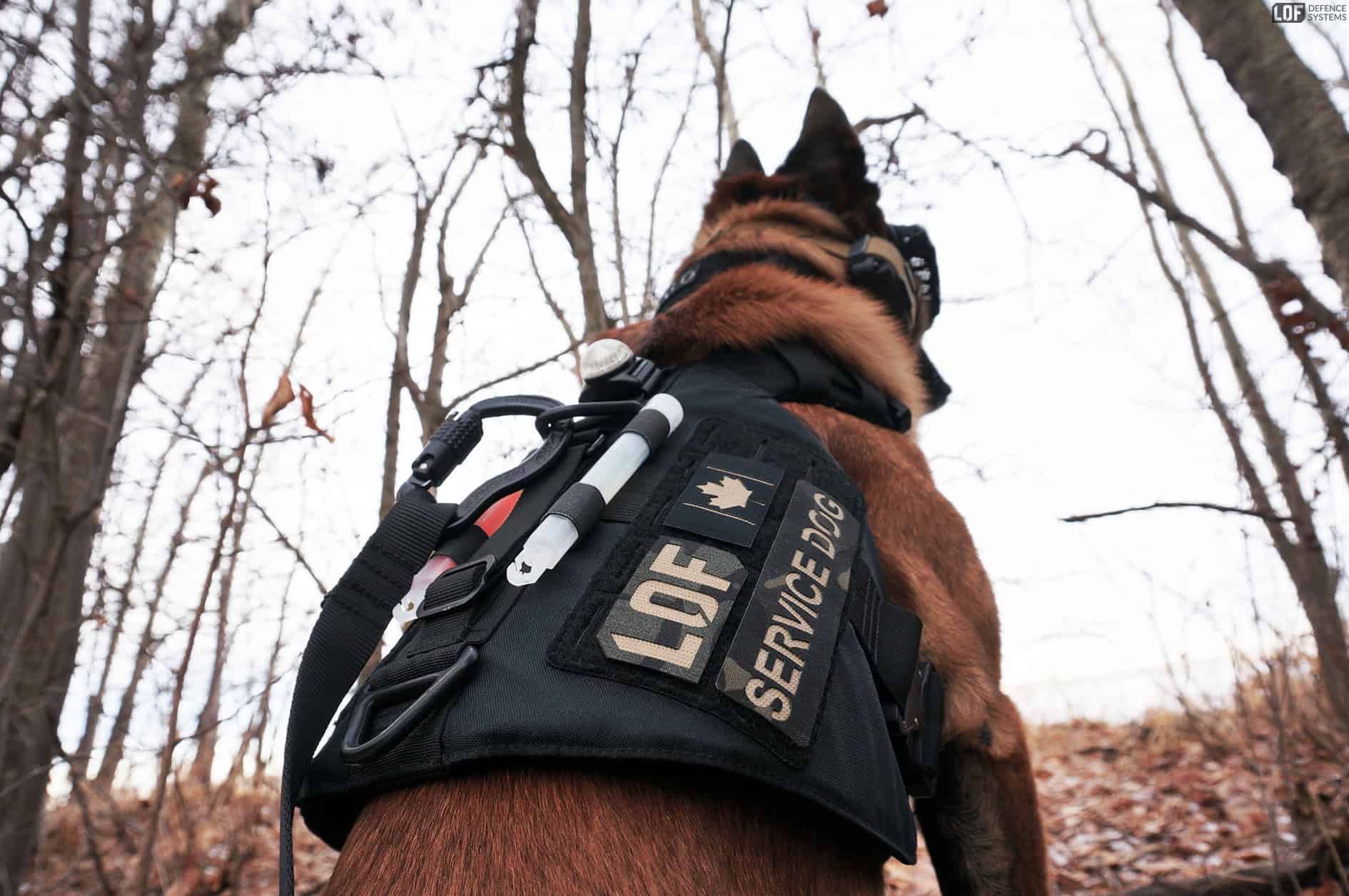 Inside Story Behind the K9 STREETFIGHTER
SEE THE K9 STREETFIGHTER IN ACTION
Features - At a Glance
NIJ 0115.00 - SX2 or SX3 Spike // Cut Resistant armour panels available
NIJ 0101.06 - GX2 or GX3A Ballistic armour panels available
Harness with soft body armour is positively buoyant

Protects major vitals but allows K9 to retain full agility

Stands up to years of heavy use
The high-angle upgrade is available for rappelling and rope work
Wide range of adjustment and modular components create a custom fit for each K9
Low maintenance design is easy to clean and maintain
Our streamlined internal access point allows the chest, shoulder and body armour panels easily removable for cleaning or swapping additional protective inserts for specific missions and deployments

Sizing
Download the sizing information here for information on how to properly size your K9 for a vest.
Lead Times
Due to the high demand for our products and strict in house manufacturing we have limited stock available and many of our products are made to order. If your order is in stock it will be picked and shipped right away. If it needs to be manufactured, lead times may apply. Click here to view our standard lead times.
For Law Enforcement, Military, procurement, department orders or volume orders please contact us directly to work with one of our account managers to ensure your needs are met.
Warranty
We guarantee our products will be free from defects in materials and workmanship for the life cycle of the product. We will repair or replace products found defective at our sole discretion. Please retain your warranty card and original proof of purchase to redeem your warranty.
Other Products You Might Be Interested In...