Colours & Patterns
Ferocity For MAN's BEST FRIEND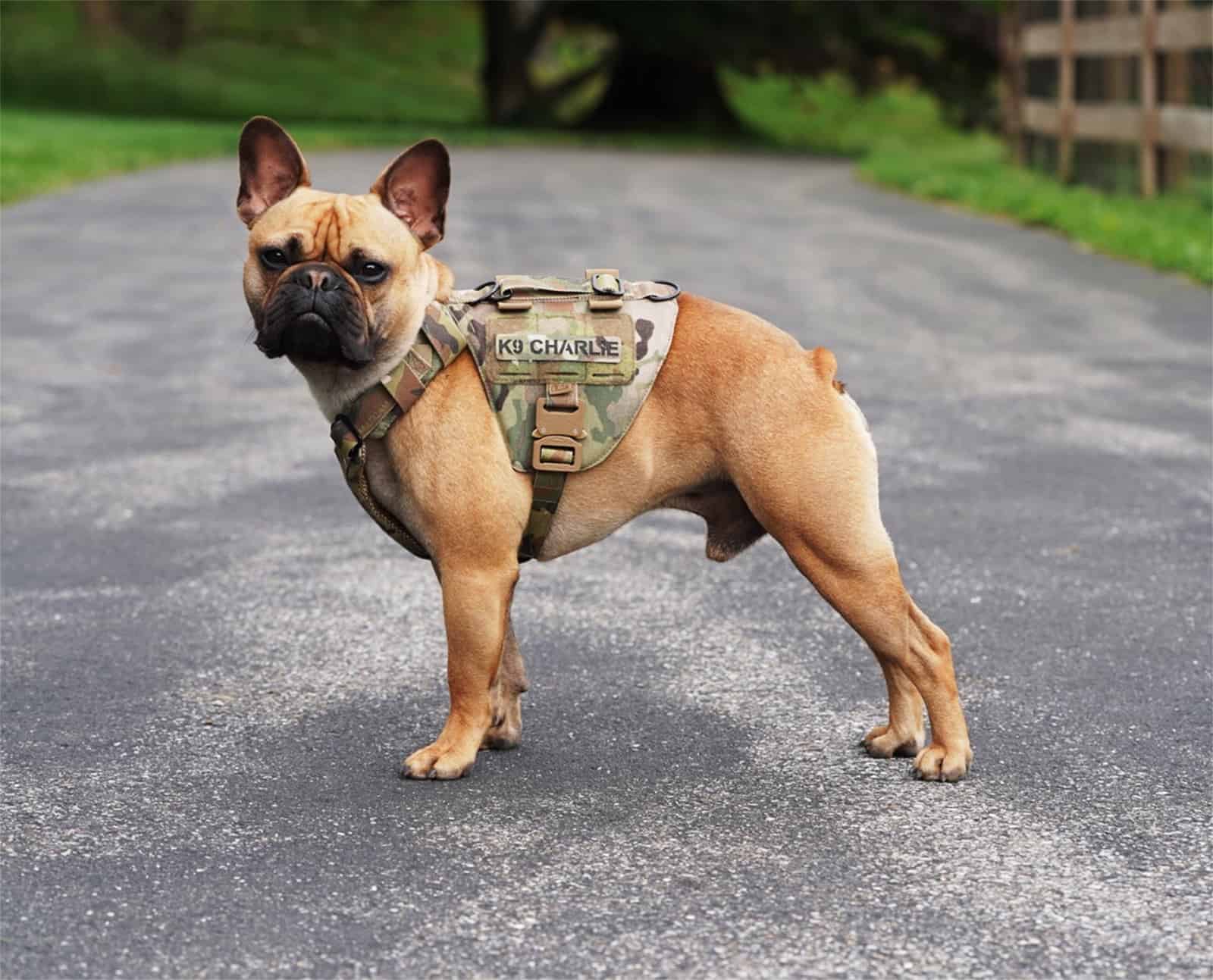 K9 Charlie - @K9Gunnertactical
The Armoured K9 MINI is our solution for all working dog handlers and pet owners that want to keep their mini K9 companions looking fierce with that little extra added protection!
Utilizing similar design features from our legendary K9 StreetFighter Harness, the Armoured K9 Mini is designed for small dog breeds such as French Bulldogs, Chihuahuas, Corgis and many more.
The Armoured K9 MINI is the real deal with soft body armour protection specially designed to be lightweight and mobile while also protecting the K9's vital organs without them becoming exhausted from excessive heat and weight. Aiding alongside the bullet resistant armour, the Armoured MINI vest also contains an inner layer of Outlast Thermal Management Systems™ fabric to prevent excessive heat soaking and to help regulate your K9's body temperature keeping them comfortable and cool.
Outlast Thermal Management Systems™ (Body Temperature Regulating Fabric)

Interchangeable ballistic panels

Harness and armour are positively buoyant




Compatible with a number of LOF products

Quick and easy to don & doff

Precision manufacturing with quality control built into every process of production
This Armoured K9 MINI vest is specifically designed for durable, long lasting, protection that can easily be upgraded or downgraded at any moment. Offering this ergonomic and lightweight protection system to your little buddy is a sure way to ensure that they are safe and always looking tough.
Maximum weight: 1.1 lbs

Upgrades options available for NIJ 0115.00 - SX2 or SX3 Spike // Cut Resistant armour and NIJ 0101.06 - GX2 or GX3A Ballistic armour

Armour Panels can be removed and replaced with Flotation Assist panels at any time without the need for sewing or alterations. Contact us regarding our Flotation Assist inserts for your Armoured K9 MINI

Specially tailored sizing options available

Available in MultiCam, MultiCam Black, Black, Navy Blue, Ranger Green, Wolf Grey, Coyote Brown and Blaze Orange
For more information, read below.
DON't just look the part...Be THe part
Literally, The WORLDS Lightest K9 Body Armour Platform Yet!
At the highest soft body armour protection level, the Armoured K9 MINI vest weighs in at a maximum of 1.1 lbs for our largest size and 0.5 lbs for our smallest size. With this incredibly low weight armour solution combined with engineered ergonomics and Outlast Thermal Management Systems, you provide your little buddy with life saving body armour that protects major vital organs, helps prevent heat exhaustion and allows your pup to retain full mobility and comfort.
___________________________________________
Unmatched Metal Hardware
The Armoured K9 Mini features all aluminum and steel hardware keeping your pup completely secured. AustriAlpin COBRA® Buckles are load rated to 18kN (4033 lbs) and are located on each side of the vest for easy donning & doffing. Two welded stainless steel D-rings are located on the top of the harness for quick and secure lead attachment points.
___________________________________________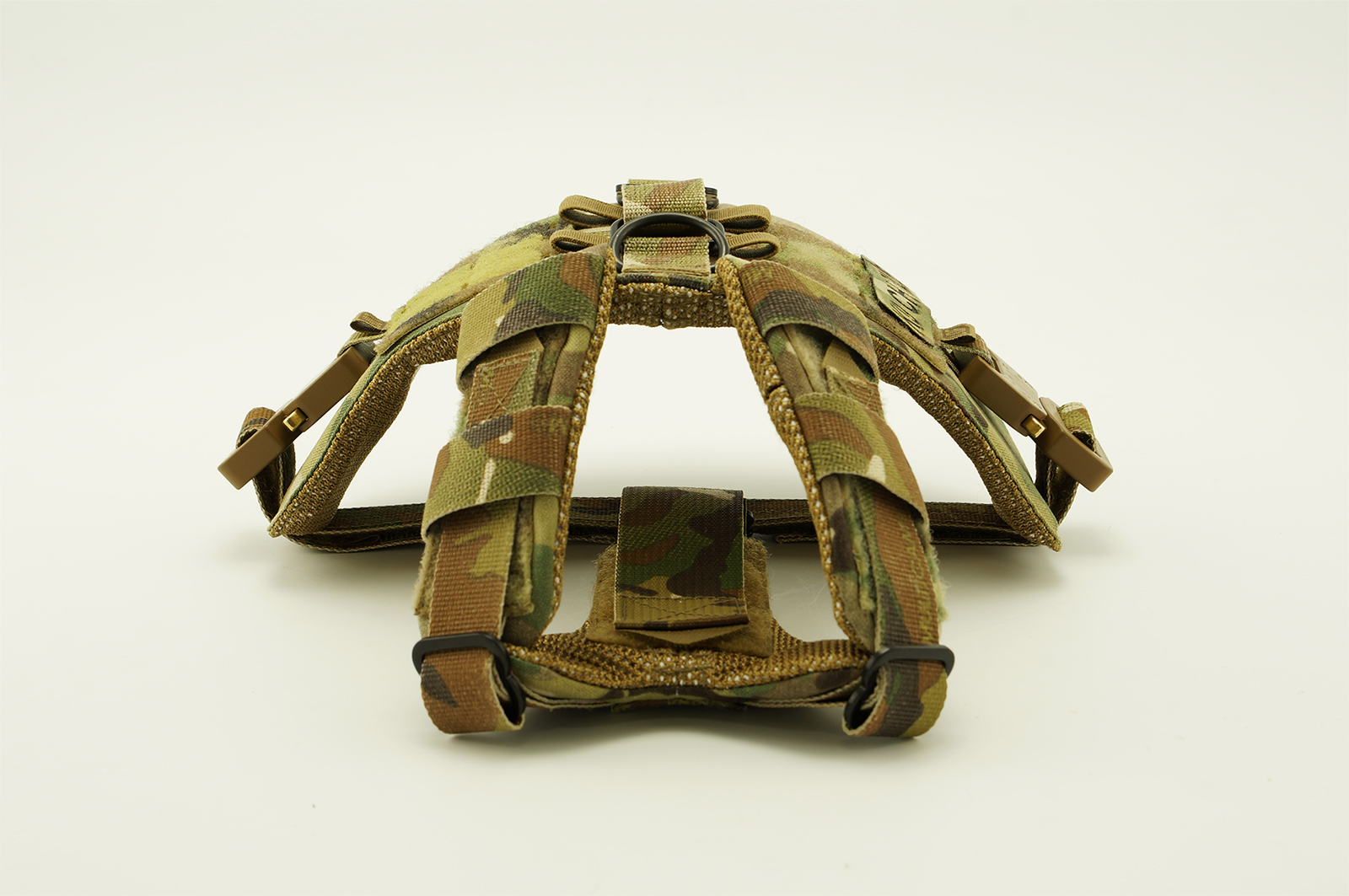 Fine Tuned Adjustments
The Armoured K9 Mini features five main adjustment points that allow you to get that perfect fit for the comfort of your K9. As mentioned above, each adjustment point features metal hardware making this the strongest mini dog harness available.
___________________________________________
Unexpected Features
Not only can you personalize your Armoured K9 Mini with thousands of our in-house customized PATCH options, this harness also features an adjustable control handle for any handler training their little one to be fur missile ankle biters!
___________________________________________
Features - At a Glance
Outlast Thermal Management Systems embedded into harness keeping your K9 Cool
Flotation Assist Panels are available in replacement for armour panels
NIJ 0101.06 - GX2 or GX3A Ballistic armour panels available
Harness with soft body armour is positively buoyant
Protects major vitals but allows K9 to retain full agility

Stands up to years of heavy use

Wide range of adjustment and modular components create a custom fit for each K9
Low maintenance design is easy to clean and maintain
Our streamlined internal access point allows the chest, shoulder and body armour panels easily removable for cleaning or swapping additional protective inserts.
K9 Charlie - @K9Gunnertactical
Sizing
Download the sizing information here for information on how to properly size your K9 for a vest.
Lead Times
Due to the high demand for our products and strict in house manufacturing, we have limited stock available and many of our products are made to order. If your order is in stock it will be picked and shipped right away. If it needs to be manufactured, lead times may apply. Click here to view our standard lead times.
For Law Enforcement, Military, procurement, department orders or volume orders please contact us directly to work with one of our account managers to ensure your needs are met.
Warranty
We guarantee our products will be free from defects in materials and workmanship for the life cycle of the product. We will repair or replace products found defective at our sole discretion. Please retain your warranty card and original proof of purchase to redeem your warranty.
Other Products You Might Be Interested In...