Colours & Patterns
Description
Upgrade your current belt with the Low Profile Triple Belt System From LOF Defence. Combining three of our other tactical duty belts (Assaulters Battle Belt, Riggers Belt, Inner Duty Belt), the Low Profile Triple Belt Systems is designed to provide you with the benefits of a padded belt, as well as the benefits of a traditional inner-outer style tactical belt rig.
No more pain - Two tiers of padding, polymer composites and 200% more coverage than your standard 2.0 inch duty belt.
Stays in place - Combining an inner duty belt with Velcro contacts, this belt will mould to your waist and will not shift side to side or move up and down.
Combined Safety - Outlast Thermal Management to keep you cool and IMPACT Technology reducing secondary injury from trauma while the Cobra riggers belt gives you a level of fall protection.
Rigidity - High Density Polyethylene Core prevents collapsing
Multi Function - Gives you the ability to attach MOLLE & Non-MOLLE equipment setups
Up-Armour - Add removable GX Series soft body armour at any time

If you are looking for a tactical belt that works as hard as you do, we urge you to consider the Triple Belt System from our tactical gear and body armour store. Built for comfort, usability, and mobility, this tactical duty belt is built to perform and last. Order yours today.
Compatible with a variety of armour and carrying systems

Available in MultiCam, MultiCam Black, Black, Navy Blue, Ranger Green, Wolf Grey, Coyote Brown, and Blaze Orange

Offered in 1.5" or 2" widths (inner belt)
For more information, read below!
Solving All the Issues...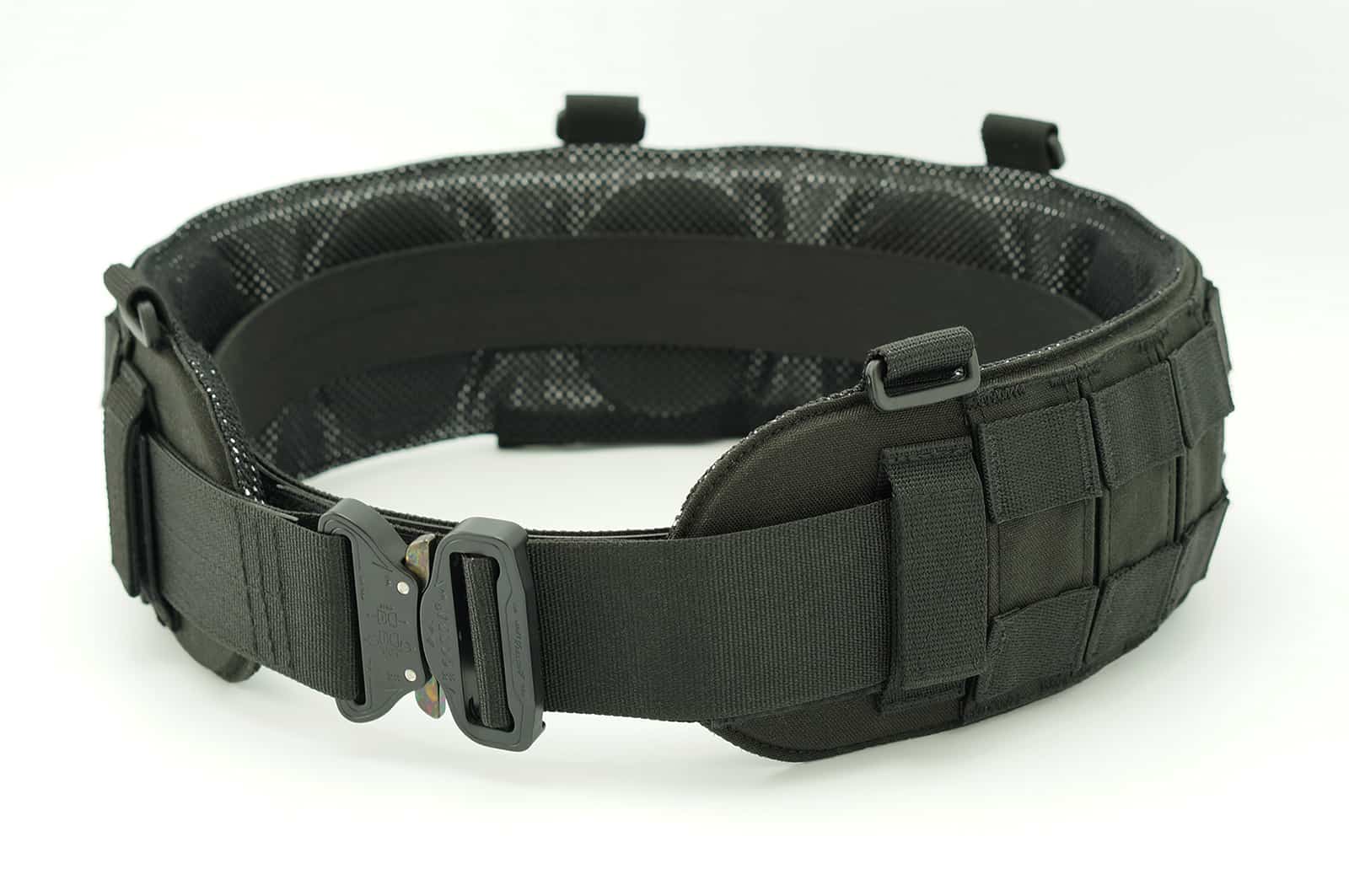 Extreme Comfort With A Low Profile Design
Three belts in one complete setup! With 200% more surface area coverage compared to a 2.0 inch duty belt, our Triple Belt System will reduce back and hip pain, keep you comfortable and keep your equipment where it needs to be. The LOF Low Profile Triple belt system was designed to better clear plate carrier setups and soft body armour vests keeping your equipment from touching and overlapping. If you ever had your SBA vest overlap your belt, you can almost guarantee the belt will often cause your vest to ride up unexpectedly. The Low Profile Triple Belt System is engineered for every first responder; whether Fire, EMS, Police or Military, this belt platform is highly customizable and can be altered in many different ways to suit your exact mission requirements. Upgrade to our internal/removable ballistic GX2 or GX3A soft armour for extreme high risk scenarios. Excellent for defeating high velocity pistol bullets, fragments and shrapnel.
____________________________
Engineered for Comfort & Safety
360 Degree Coverage
200% more surface area coverage means it doesn't matter how much gear and equipment you need to carry, this belt will mould to your waist and provide positive contact over your entire waistline promoting comfort and maintained mobility. This will evenly distribute any load-out (even if one side is heavier than the other) and prevent any pressure points from occurring. Internal padding and our polymer belt stiffener are removable to allow you to customize the overall thickness and rigidity of the entire system or add GX level 2 or 3A soft body armour when needed.
____________________________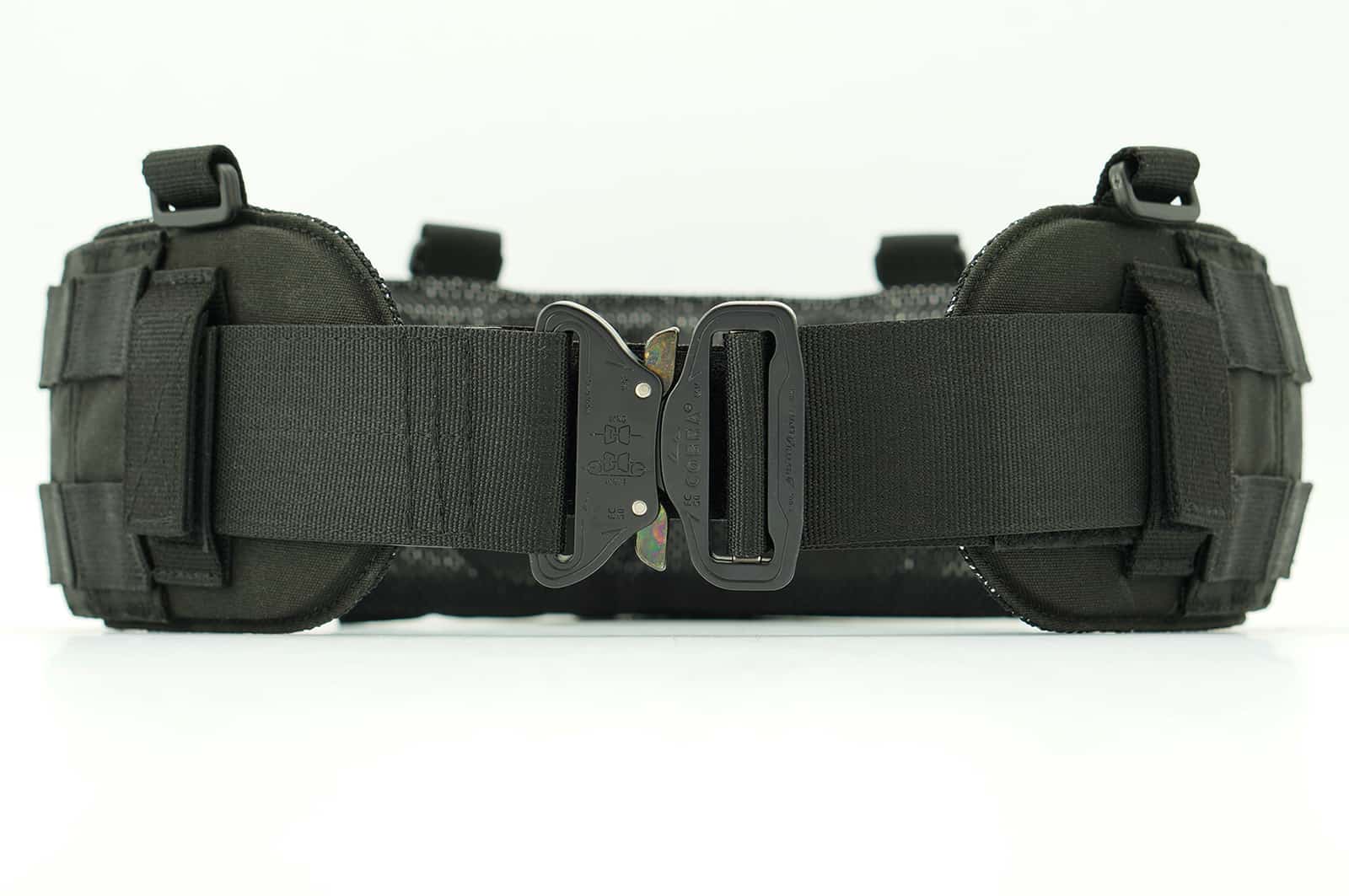 Load Rated
Safety is pinnacle! Every OEM Triple Belt System comes standard with an AustriAlpin™ COBRA® buckle - load rated to 18kN (4046.55 lbs) combined with a "soft" riggers loop that is made from one continuous piece of MIL-SPEC webbing and secured with heavy duty stitching and 1.0 inch webbed anchors. This belt will only release if you intend it to.
____________________________
Rigidity In Every Platform
Hence the name, the LOF Low Profile Triple Belt System utilizes three separate belt styles to create one dynamic platform. With no added hardware, our Inner Duty Belt combined with loop Velcro provides support for issued duty pants while attaching directly to the Assaulter's Battle Belt keeping it from shifting or moving. The Low Profile Assault Belt provides an extremely comfortable load stabilizing platform enabling you to attach MOLLE and Non MOLLE compatible equipment such as drop leg platforms, pistol/taser holsters, K9 lanyards, and tactical pouches. Our load rated Rigger's Belt holds the entire system together and is placed behind the belt keepers and MOLLE platform. All three belt styles are engineered with a rigid polymer core that will conform to the shape of your waist and provide stability from collapsing, rolling and sagging due to heavy equipment load-outs.
____________________________
Low Profile

Every body type is different, this Low Profile design features a straight 4 inch profile across the entire belt to help clear plate carrier systems and soft body armour vests keeping your gear from overlapping each other.

Insider Details

The Assault Belt is covered with breathable MIL-SPEC mesh and lined with Outlast Thermal Management Systems. LOF IMPACT Technology provides additional blunt force trauma protection and greater support.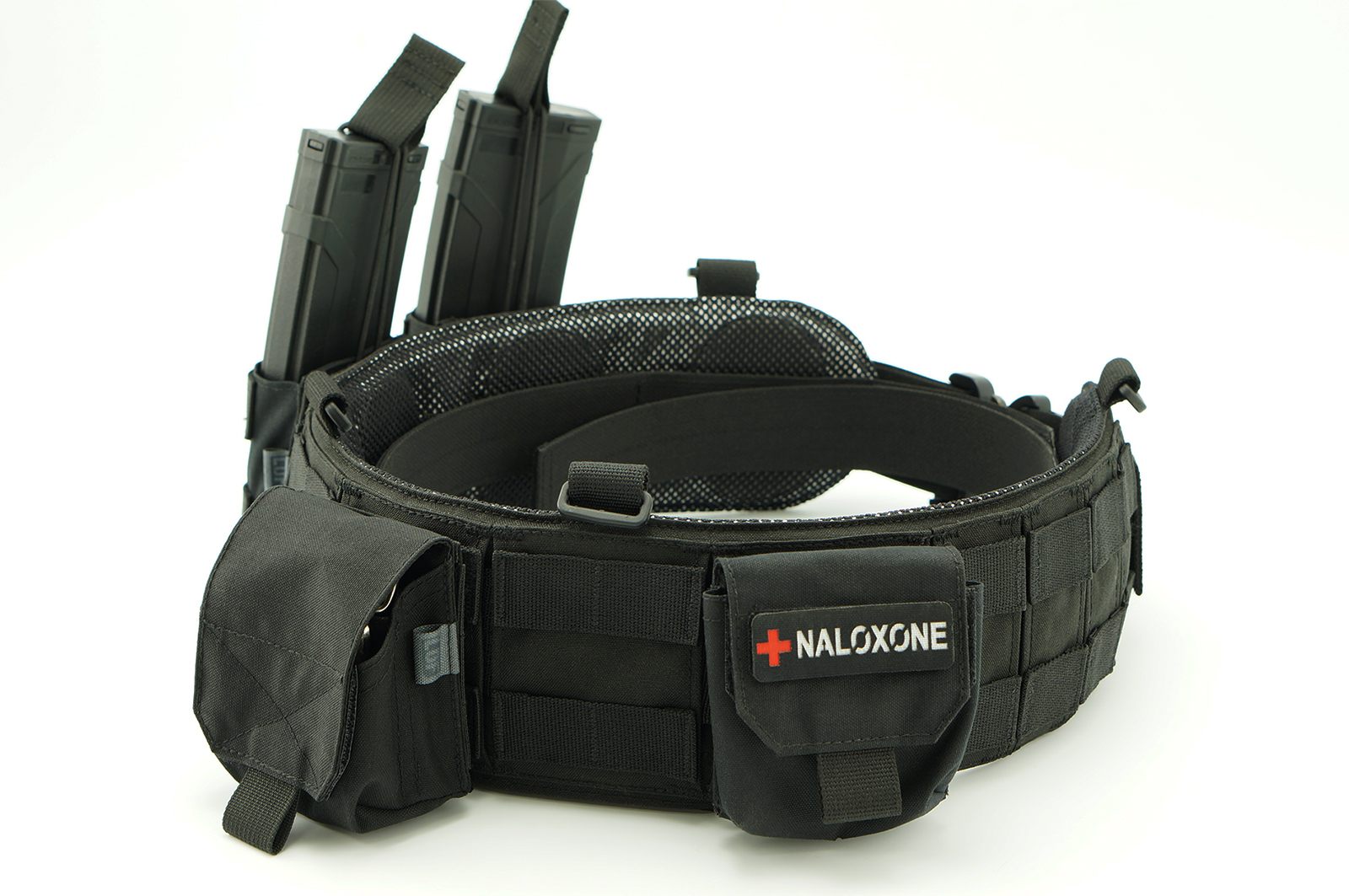 Attach It All...
Amongst all the other critical features a belt system needs to have, one commonly overlooked asset among battle belt setups is the ability to attach various pieces of equipment without running into roadblocks. Our Triple Belt System features two sizes of individual PALS platforms covering the entire outer surface allowing you to attach any MOLLE compatible equipment. It also gives you the option to weave the Rigger's Belt "In and Out" of the Assault Belt PALS platform to attach any non MOLLE compatible equipment such as thigh rigs, duty holsters, K9 quick release hardware, and various types of pouches.
____________________________
No Need for An Appointment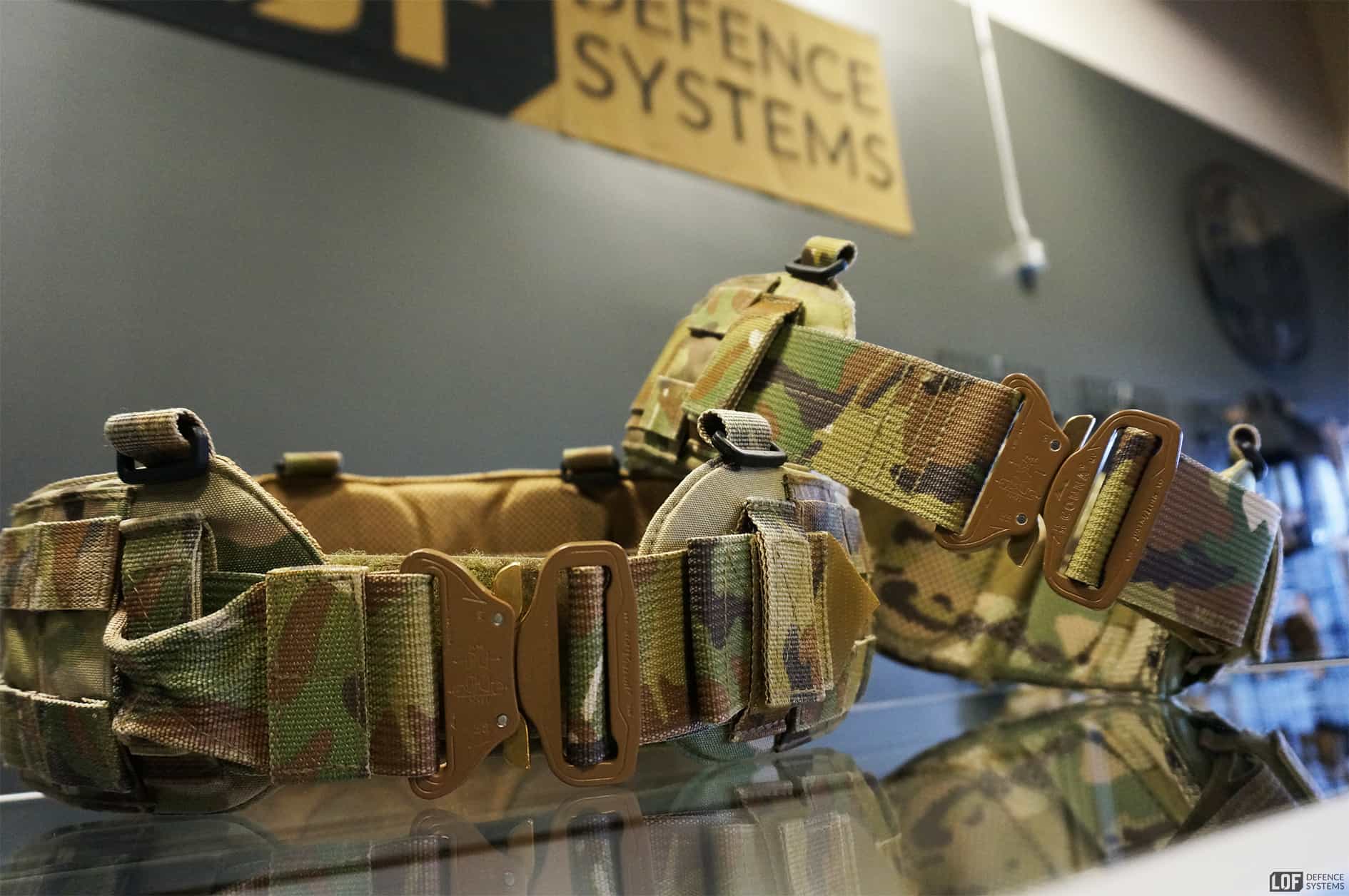 Visit our Showroom
Various sizes and colours are in stock and ready to go in our Edmonton showroom and manufacturing facility. Open Monday to Saturday, swing by for a belt fitting, learn about advanced body armour systems and enjoy a Black Rifle Coffee on the house.
____________________________
Overview
The LOF Defence Triple Belt System is a combination of our Assaulters Battle Belt, Riggers Belt and Inner Duty Belt. Experience all the benefits of a padded Battle Belt system plus the benefits of a traditional inner-outer style duty belt.
Features - At a Glance
1. Low Profile Padded Assault Belt features a rigid polymer core for stability
2. Inner-outer duty belt concept prevents unwanted movement
3. Independent PALS platforms provide countless MOLLE & Non MOLLE equipment configurations.
4. Low Profile Assault Belt System can be upgraded with various levels of Soft Body Armour for additional protection
5. Easily attach any holster, thigh rig or anything that requires a belt loop.
6. Concealed internal pocket for easy access to Soft Body Armour and padding
7. LOF IMPACT Technology
8. Outlast Thermal Management Systems
Sizing
The LOF Low Profile Triple Belt System requires very accurate sizing to ensure your entire platform is comfortable and fits as intended. Please ensure you provide proper, current measurements so sizing is correct the first time. Ball park guesses or using old or inaccurate measurements will result in your order not fitting properly and a longer wait to get the properly sized products. Do not 'suck it in' when taking measurements. Relax and ensure you are getting the realistic numbers when your are at ease. Belts are sized by the length of the belt from the centre of the buckle to the centre of the buckle. PLEASE READ THE FULL SIZING SHEET by clicking here for details on how to properly size your belt. These belts are made to order, if you incorrectly size yourself you will be required to wait for a replacement to be manufactured.
NOTE: If you intend to use an existing Riggers belt or Duty belt ensure it is oversized to accommodate the padding of the Battle Belt and the extra bulk of the inner belt. If you intend to use an existing inner belt it must be loop velcro as our Assaulters belt in this combination has hook velcro.
Lead Times
Due to the high demand for our products and strict in house manufacturing, we have limited stock available, and many of our products are made to order. If your order is in stock, it will be picked and shipped right away. However, if it needs to be manufactured, lead times may apply. Click here to view our standard lead times.
For Law Enforcement, Military, procurement, department orders or volume orders, please contact us directly to work with one of our account managers to ensure your needs are met.
Warranty
We guarantee our products will be free from defects in materials and craftsmanship for the product's life cycle. We will repair or replace products found defective at our sole discretion. Please retain your warranty card and original proof of purchase to redeem your warranty.
Other Products You Might Be Interested In...