Colours & Patterns
Pets & Working Dogs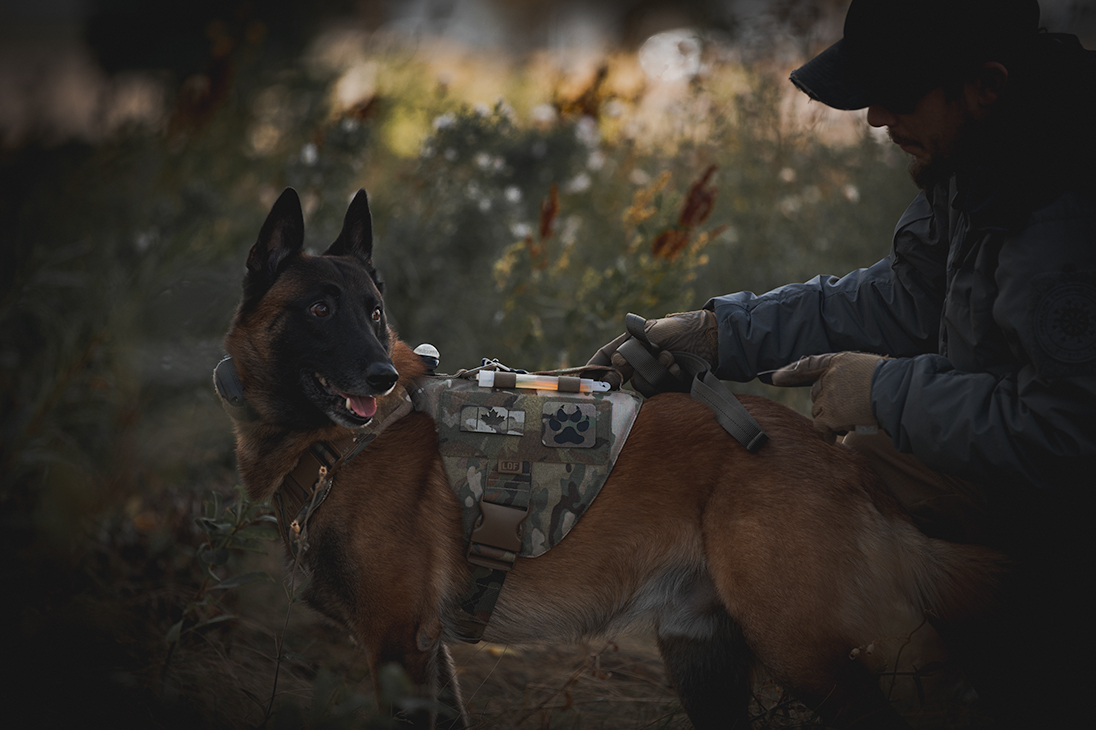 Overview
The Hunter is a simplified version of our K9 StreetFighter vest. Removable flotation assist (not a life preserver) panels are included, along with a single forged metal V-Ring for lead attachment. Outlast Thermal Management technology is also incorporated in this harness to help regulate your K9's body temperature. A few minor changes were made to reduce the cost of outfitting your K9 companion. The K9 Hunter harness includes polymer ITW Nexus buckles, a fixed drag handle, loop Velcro ID panels, two elastic glow stick attachments, and a webbing loop to attach various light beacons. Five separate adjustment points are included to provide a perfect fit for your K9.
_____________________________

Function & Mobility
Based off of our flagship K9 StreetFighter, the Hunter harness features identical ergonomics and fit to ensure your pup has extreme mobility and comfort while wearing this harness for long periods of time.
_____________________________
Metal Hardware
Made from drop forged steel, the K9 Hunter includes one 4000 lbs load rated V-Ring for your leash/lead attachment point.
_____________________________
Robotic Sewing
Every single one of our products comes with a hand-made touch. However, we have implemented various CNC & automation techniques to provide some of the highest quality tactical sewn products you can get. Multiple points on the K9 Hunter & StreetFighter models incorporate robotic sewing for high strength, beautiful and consistent quality.
_____________________________
Comfort?
Like the StreetFighter, the Hunter harness incorporates a total of five unique body adjustment points for a customized fit. Looking at the white space-age material in the above left photo is Outlast Thermal Management Systems™ fabric to prevent excessive heat soaking and to help regulate your K9's body temperature keeping them comfortable and cool. This fabric covers every part of the vest that incorporates the breathable MIL-SPEC TP-21 Mesh.
_____________________________
Grab N Go!
Featuring a single non-adjustable grab handle for "no leash" control of your K9. Whether you are hunting, training for sport or just walking from point A to point B, this is a very useful feature that you will use time and time again.
_____________________________
Extra Protection
As an OEM option, the Hunter Harness comes with LD45 Impact foam for extra flotation properties as well as impact protection for your K9. A total of four panels are included with each vest. Two shoulder straps, one chest piece and one body piece. All panels are removable, washable and interchangeable. These foam panels, just like our "Soft Body Armour" are ultrasonically sealed using a ripstop "Sonobond" material.
_____________________________
Optional Upgrades
Upgrade your Hunter vest with Laser-Cut MOLLE Velcro for attachment of additional pouches and equipment. Replace the ITW Nexus, polymer buckles with metal AustriAlpin™ COBRA® buckles for increased load capacity and strength.
_____________________________
Sizing
Download the sizing information here for information on how to size your K9 for a vest properly.
Lead Times
Due to the high demand for our products and strict in house manufacturing, we have limited stock available, and many of our products are made to order. If your order is in stock, it will be picked and shipped right away. If it needs to be manufactured, lead times may apply. Click here to view our standard lead times.
For Law Enforcement, Military, procurement, department orders or volume orders, please contact us directly to work with one of our account managers to ensure your needs are met.
Warranty
We guarantee our products will be free from defects in materials and craftsmanship for the life cycle of the product. We will repair or replace products found defective at our sole discretion. Please retain your warranty card and original proof of purchase to redeem your warranty.